Help a Mama Swag-o-Rama: Happening Now Through Friday, Aug 8
Help a sister out! Our fundraiser to help defray the costs of attending and reporting the DNC: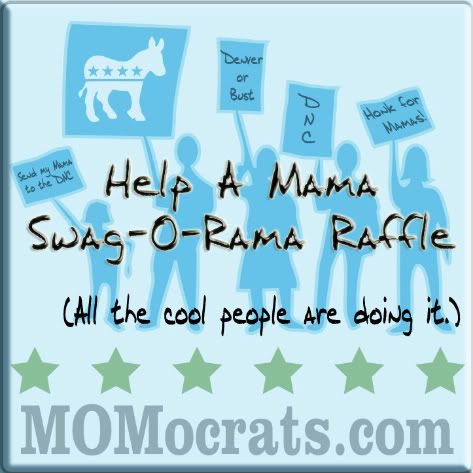 There is chocolate. And sex–or rather SEX AND THE CITY. (That was a giant dog whistle–nay, foghorn blast–to you, May in the Bay!
) And computer-y stuff, plus lots of hardcover novels and even some dvds of TV shows that star women: The Closer, Saving Grace. Did I mention chocolate?
For $3 a chance, with a 2-chance minimum, some very nice swag could be yours–AND you have the chance to help us out. Raffle closes midnight PST on Friday, August 8, 2008. We'll put all "tickets" into a randomizer and draw winners on Saturday, August 9, 2008. Could be the best $6 (or more?) you've ever spent! Thanks so much for taking a peek!
ETA: Hey, even if you don't decide to donate, you can still help us out by getting the word out. Thank you, I really appreciate it. Here's the url: http://momocrats.typepad.com/raffle/.