BCD Tofu House, Continued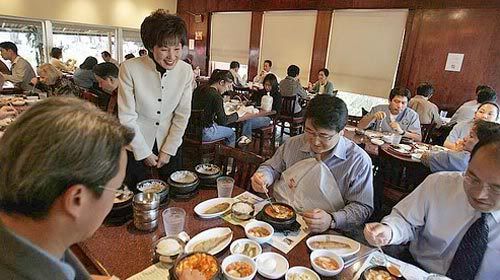 Spencer Weiner/LA Times
"It's not important whether there are 10 or 100 branches," Hee-sook Lee says, speaking in Korean. "I consider myself a diplomat of sorts, making Korean food known to the world."
I've raved and sighed about BCD Tofu House and their lava tofu soup before. Bliss! Delight! On a cold, wintry Los Angeles night when the weather reaches a bone-chilling 52 degrees F (like tonight, shudder! not that I'm flaunting it), what you want to warm your soul is glorious, incendiary, red chili-hot tofu soup–with boiling bubble-tossed prawns, a mussel or two, and garlic–all churning around cubes of babyflesh-tender tofu.
Well, it's not as if BCD Tofu House was ever a secret to anyone who loves Korean food in Los Angeles. Certainly the gigantic Korean American community here sustains the numerous branches of BCD scattered all over K-town. We Asian non-Koreans are all over it like it's going out of style. And there's even the adventurous gwai lo every so often–good for them.
So the LA Times has the fabulous story of the iron-backboned woman who started this lucrative chain: Hee-Sook Lee. Fascinating.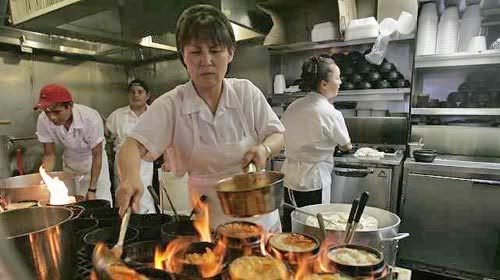 Spencer Weiner / Los Angeles Times
Hee-sook Lee in the kitchen of BCD Tofu House on Wilshire Boulevard in Koreatown. Each day she makes about 40 gallons of her secret seasoning herself, shipping it out to her U.S. restaurants.
It seems the chain is a little more than a decade old. We first started going to BCD Tofu House within weeks of moving to LA in the summer of 2001, before the Unreliable Narrator was a twinkle in anyone's eye. We've never known a Los Angeles without BCD. That seems as it should be.
People recognize [Lee] from numerous media reports and approach her on the streets of Seoul. The South Korean government invited her to speak at a convention for overseas Korean business owners. In 2006, the tale of her success was reenacted in a 12-part radio mini-series broadcast in South Korea.

…
Fellow immigrants look to Lee for a clue as to how she built up a business that brings in $19 million annually and employs more than 300 people. Many wonder how a common dish brimming with very Korean flavors — spicy, salty and served scalding hot — succeeded in Los Angeles.
I find it both amazing–and not unusual at the same time–that in the early days of her first restaurant she made the daily commute from Las Vegas to Los Angeles to personally supervise every detail. You heard right: DAILY. COMMUTE.
Phenomenal drive; she built something from nothing. And what's so thoroughly immigrant American is to come to this country for your kids, who you then hardly see because you're working your fingers to nubs at all hours trying to make a life for them. No wonder the children feel obliged to become doctors, lawyers, and accountants!