Plastic Made From Orange Peels
saw a tiny blurb on this scientist in esquire's "Six Ideas [in science] That Will Change the World" feature: geoffrey coates of cornell university.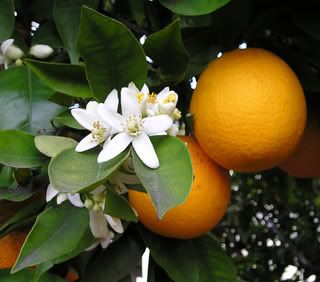 The key is limonene, a citrusy-smelling chemical compound made from orange rinds that when oxidized and mixed with carbon dioxide and a catalyst can be turned into a solid plastic. The final product can be made into anything from Saran wrap to medical packaging to beer bottles and naturally biodegrades in just a few months. And because it can be produced using recycled CO2 from carbon-spewing factories, simply making Coates's plastic can help the environment.
it's the holy grail to create an alternative to the petroleum-derived plastics we use now that are not biodegradable, and coates may be on it. two of the main ingredients he uses, oranges and carbon, are abundant and cheap. if organically grown oranges are used, even better. here's the company he founded that's mentioned in the article, novomer.
given my recent unsatisfactory attempts in finding an unbleached, soy-based waxed paper or a biodegradable plastic bag that was affordable and truly biodegradable, i'm really excited by coates' breakthrough. here's to science (for the second day in a row!), and cornell (formerly known as source of the evil agrifood product, the chicken mcnugget).