The Unreliable Narrator: Stir Crazy
let me go on a bit more about how active the Unreliable Narrator is. it's almost unbelievable the amount of energy a small human child can throw off.
he was so thrilled to have both mama and daddy up and about on a weekend and all to himself after an intense, intellectually stimulating, and fine motor-skills focused two days with mama that after breakfast he
scootered for 30 minutes down our street to where the sidewalk ended and the hill became too perilous to descend, and back home
at the playground, went scootering for another 90 minutes nonstop (in which we had to "get the next clue that would tell us where the monkey king was hiding with secret information about the phoenix's location")
visited the griffith park observatory, hiked for 45 minutes a nearby hill and only had to be carried partway back after eating lunch at the new wolfgang puck cafe there (me? i conked out for a nap because i'd woken up at the ungodly hour of 4 am, and found the peace and quiet so delicious i stayed up and wrote for a while)
spent a good 25 minutes heaving rocks bigger than his hands up a hill
thoroughly defied a made-up excuse to visit Targé to buy toilet paper, the car trip of which was supposed to induce sleep
finally napped after taking the longest possible drive home
at which time, HB and i were exhausted ourselves.
and i haven't even mentioned the non-stop chatter, the barrage of "how?" and "why?" questions, and the spontaneous bursting into song/scatting like ella fitzgerald (though not quite as pleasant to hear). are you tired at all reading this? to think i worried that the Unreliable Narrator had a speech delay….bwa ha ha ha haha haha ha (wipes tears from eyes)!
perhaps pictures of his playground scootering will convince you there's kilowatts to be captured and somehow sold back to the power company.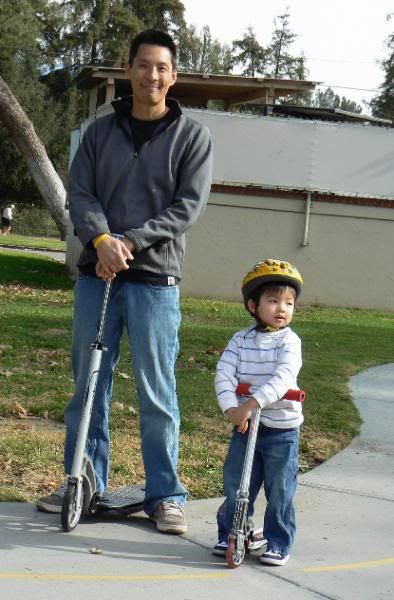 scooter buddies
ready, steady, go!
faster! faster!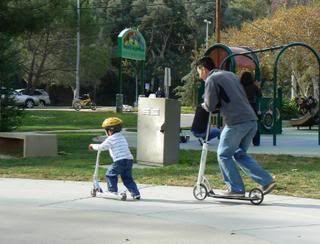 racing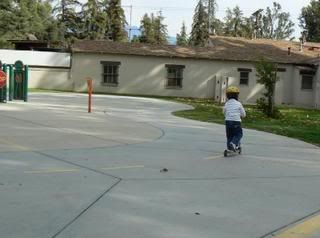 observing lane markings like a true angeleno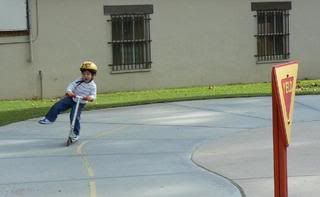 whoa!
good save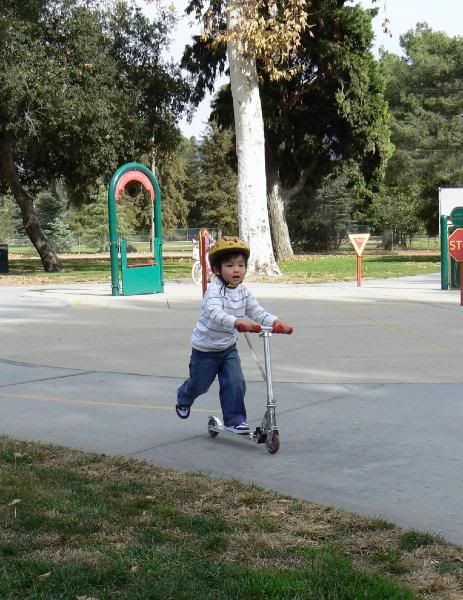 lap 531, only 4,469 to go!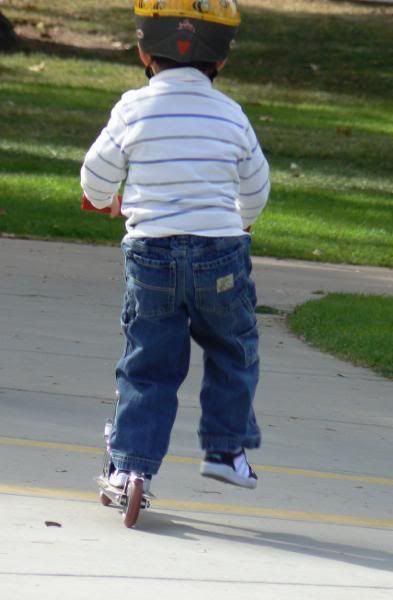 hmmmm…built like grandpa?