"Black Friday" Sugarless Holiday Cookie Recipe
okay, now that you've put away the turkey leftovers and can properly focus on how many shopping days til christmukahzaa, it's time to think about holiday cookies.
at our house we make them sugarless, and use a "nutritious" chocolatey frosting.
here we go:
"Black Friday" Sugarless Holiday Cookie Recipe
this is basically a shortbread recipe, not a true chewy sugar cookie. but if you want a crisp, buttery, not too sweet cookie you can use a cookie cutter on and frost later, this is it.
3/4 cup butter, softened
1/4 cup agave nectar
3/4 teaspoon vanilla
1 & 2/3 cups flour
small pinch of salt
soften butter for a couple of hours or microwave for 20 seconds or less (depending on the strength of your microwave)
use a hand mixer to beat the soft butter in a mixing bowl til fluffy
add agave nectar and vanilla and continue to beat until both are incorporated
add flour and salt slowly, mixing until a stiff batter is formed
CHILL BEFORE BAKING. cover the shortbread tightly with wax paper or foil and refrigerate at least two hours or up to 4 days. if you don't chill, the shortbread will spread.
preheat oven to 325 degrees F while rolling out dough and cutting cookies into shapes.
bake for 20-30 minutes, or unil lightly browned just around the edges. thicker cookes need a little more time, thinner cookies a little less.
remove the cookies to cooling racks. frost and decorate when cool.
for a white, cream cheese-based frosting sweetened without refined sugar:
3/4 cup heavy cream
1 cup cream cheese
1/4 cup agave nectar
1 Tablespoon vanilla
whip heavy cream until stiff
in a separate larger bowl, whip cream cheese until smooth, then blend in agave and vanilla
with a rubber spatula, gently blend whip cream into cream cheese mixture
for healthy chocolatey "frosting," i use this high protein, low-sugar, iron- (and calcium-) filled magical ingredient direct from the jar*: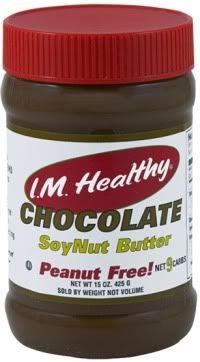 laugh if you must at the cheesy manufacturer's name, this stuff is like healthy nutella. and you can make a healthy sandwich that your kid can even eat at a "nut-free" school, because soy nut butter is not as allergenic as tree nuts are. it does contain a bit of sugar, though not as much as you might have with a powdered-sugar frosting.
* i don't work for them. or for the agave nectar people.