last year's pumpkinliner (quaint little train in fillmore, ca, that takes you to the pumpkin patch for halloween) was so delightful then, but is soooo babyish now. this year, the Unreliable Narrator expressed a wish to go apple picking. given our type A, geeky natures, both HB and i hopped online to look for such a place. it turns out you can go apple picking within two hours of los angeles.
i recalled memories, crystallized in childhood photographs, of my own family's apple picking adventures: me, squinting at the camera with a ridiculously large canvas bag slung over one shoulder, the bag sagging at my feet from the too-long strap. and of course, the bag filled with many many glorious apples, all of which were probably terribly bruised from me dragging them around on the ground as i walked. behind me, a leafy tree with twisted branches–the best, most tantalizing red apples always out of reach, of course. and the gratification of eating one or two right there in the fields.
i think my favorite as a child were the macintosh apples. i never did like red delicious. nor did i favor granny smiths (too often mealy).
[when pregnant with the Cutie Nubbin/Unreliable Narrator, i regularly snacked on organic fujis. i love their juiciness--apples that squirt you when you bite into them are the best.]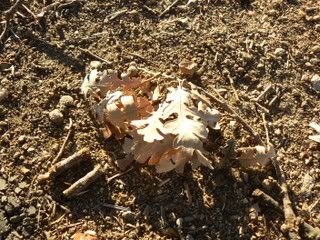 accompanying my childhood love of apples was an extreme fondness for apple cider. we used to go to a big farmer's market called ontario orchards and fill up a plastic or large glass jug with clear amber cider from a giant oak barrel. we'd have to brush the wasps away from the spigot that dripped honey-sweetened cider, and take our chances that they'd be so dizzy and cider-addled they wouldn't sting. i have very clear vivid memories of how the autumn light would strike the glossy glass jar, lending the cinnamon-brown cider a golden glow and illuminating the little brown specks (of mulled spices? tiny pressed apple bits?) floating at the bottom. if we waited too long to drink the cider, it would turn vinegary almost overnight. even so, it was piercingly–bracingly–redolent of apple.
so HB and i understood the Unreliable Narrator's request on a profound level.
in recalling how i loved to eat the just-picked fruit there in the field, i thought also how ignorance is a form of bliss. those apples could've been liberally dusted with DDT (were in fact probably sprayed with something) and i wouldn't have known, or cared.
but it is my job to care now about those kinds of things. so i searched harder for organic "u-pick" apple orchards near los angeles. there were some that hedged the organic issue by saying they were "sustainable." i wasn't satisfied.
photo credit: Steve Osman, LA Times; Barbara and Bill Spencer of Windrose Farm
then i remembered this LA Times article about organic heirloom apples grown north of us near san luis obispo. as i recalled, the descriptions of the apples sounded heavenly.
for a small sum, you could hang out at the farm, eat all the apple baked goods you could manage, drink cider, and taste a dozen or more different kinds of heirloom apple varieties. for an additional reasonable fee, you could stay overnight on the farm in the solar-powered two-bedroom RV parked under an oak.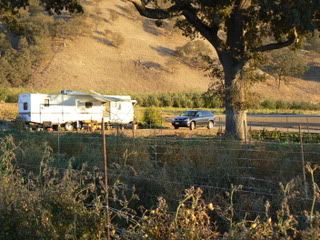 i immediately reserved space for us and invited my in-laws along. (my own parents are in shanghai til early december.)
we drove three hours from los angeles to templeton, a town near a charming little valley where the farmers featured in the article, bill and barbara spencer, live and work. their windrose farm also produces herbs, salad greens, and tomato upon tomato.
the Unreliable Narrator immediately glommed on to the nine-year old girl who was the self-anointed host to the children who came. (he looooooves older women, and they, him.)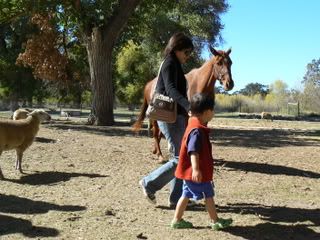 he trailed her down to the meadow where the sheep were grazing. a retired racehorse named zuma followed us around, nuzzling and nibbling at the Unreliable Narrator's head with her floppy, bristled horse lips. she'd obviously been fed apples before.
the Unreliable Narrator chased chickens. he hugged (far too intimately for this city slicker mama's comfort) a grimy once-white sheep that was about as clean as a fuzzy sweater ground in dessicated poo. (oh well, nature.) he darted in between giant horse plops and put sticks to all variety of uses. petted the dusty farm cats.
and apples. oh, he ate a few apples. (we downplayed the "picking" part. and he barely noticed.)
here are a few of the exotic heirloom varieties we sampled:
White Winter Pearmain: maybe it was the power of suggestion from the name, but i thought i detected a slight d'anjou pear flavor to the bright white flesh of this one.
Mutsu: a greeny-yellow skin with a heady floral fragrance and sweet juicy bite and slightly grassy greeny undertones.
Redgold: this small, yellow-tinged-with-blush apple filled my palate with the surprising scent of tearoses and sweet sweet apple.
Arkansas Black: a dark, almost maroon skin and a less powerfully floral fragrance, with a fine-grained flesh.
Fuji: an old favorite; satisfying crunch, crisp meat, and a wonderful balance between tart and sweet.
Granny Whites: green, slightly mealy flesh, tart and bright flavor.
Caville Blanc d'Hivre: akin to a dry white wine; a low-juice apple with muted sweetness and a delicate, subtle flavor.
Blacktwig: one of these varieties had a giant, just HUGE apple flavor. was it this one or the russet? can't recall.
Anna: makes a smooth, sweet, mellow applesauce.
Roxbury Russet: looks a little potato-like with its slightly mottled skin.
Wickson: almost like a crab-apple in size and color (pale/medium yellow with a rosy blush); very juicy and tart. i could drink gallons of cider made from this apple.
after loading up on homemade pumpkin bread, pumpkin brownies, apple pie (to die for!), apple bread, and apple crumble baked by barbara spencer, we waddled off to explore our RV. the Unreliable Narrator was delighted by the L-stacked bunk beds, where one bed had a sort of "cave" area for your legs made by the other bed raised above and set at a perpendicular angle to it. (naturally, he slept in the "cave" later that night.)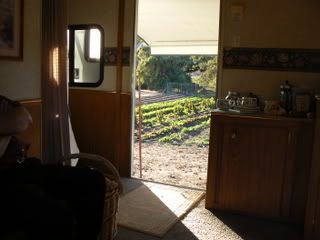 before dark fell, we ambled over to the tomato fields and started picking fruit. (we'd arranged beforehand with the spencers to do this tomato gleaning.) a sort of tomato madness befell us.
as the sun set, we gobbled little tiny knob-shaped orange ones off the vine. plucked and downed miniature elongated bright red ones. greedily snaked our hands in between the hairy vines to twist the big, round, full-figured ones off their stems, and into our bags. for a while, all you could hear from us were exclamations ("i love tomatoes," the Unreliable Narrator said in between gulps), guttural groans of pleasure, and the smacking of our lips as our jaws worked. these were tomatoes as one rarely tastes them: sweet, acid, meaty, and equal parts sunny afternoons and the slightly metal-nickel smell of warm green vine.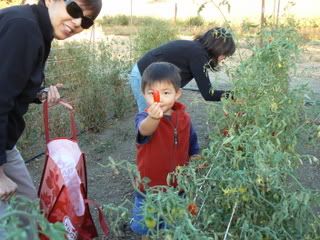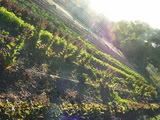 we admired the bolted lettuces and basil growing in tidy lines in the little plot under the oak tree. then we went inside and had dinner.
the next morning the Unreliable Narrator said, several times, "i wish we could live in the RV forever! on this farm!"
agreed, little guy.