The Personal IS Political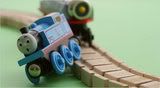 The Personal IS Political
red-painted Thomas the Tank engine trains are being recalled because the manufacturer in china used lead-based paint. a no-no for a toddler toy (actually, for anybody).
so i find all my current obsessions all rolled into one:
the despicable way transnational corporate allegiances to the bottom line find their best amoral expression in regulation-free china;
my son who ADORES Thomas and thank goodness owns zero red- or yellow-painted trains, and would never put them in his mouth (but all the same who even needs to touch lead?);
Thomas, a stuffy, prissy little engine who grew out of Edwardian england's past and hangs on long past usefulness like the royals in the U.K.;
the tedious way parents get sucked into buying $17 trains (EACH, i kid you not–appalling, isn't it?) who inhabit retrograde, decidedly Tory political worlds, and now, come in bright toxic colors;
not to mention the health of the chinese workers who are spraying the lead-based paint, arrrrgh;
the fact that i'm of chinese descent and have this love-hate (mostly hate) relationship with china (it's mostly indifferent to me);
the even more complicated relationship my son will have with china given that he speaks little if any mandarin chinese.
who knew that a little train de-railing would have such resonant impact?