I HATE THOMAS THE TANK ENGINE.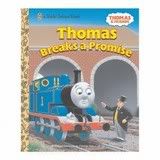 I HATE THOMAS THE TANK ENGINE.
now the truth can be told. ugh, i hate Thomas. i wish i'd never innocently introduced him into my son's life. now i can't "disappear" him because my son uses Thomas as a social tool; it helps him define his little niche in the playground ecology. he's become known as "the boy who likes Thomas!" it makes him happy, especially after our not-as-successful experiment with superman.
at the Cutie Nubbin's old preschool, there was a boy who was really into superman–he had the homemade cape, the lunchbox, the doll…cough… i mean, action figure, the 3-D brawny foam chestpiece with C-cup pecs and 6-pack abs, etc. CN also had a rather fabulous red velvet cape emblazoned with the famous superman S, but i know he always found it tiresome to compete with the other child's superman worship on the days they both wore superman stuff to school. it was just too hard to occupy the same pop cultural niche, in spite of everyone affirming the TWO wonderful supermans. both/and is a hard concept to grasp for college students, so why would it be any easier for toddlers?
so now at his new school, he's taken up Thomas worship as his defining characteristic. it makes sense, as the new school is on a compact urban campus where big sandlots (and hence, Bob the Builder/bulldozer worship) aren't possible. the compact urban campus does have many many Thomas trains and tracks, so there's actually a social arena for his worship to manifest and be appreciated and understood by the other children. plus his teacher ms. J read a Thomas book to him the first day he came to visit the school, so it's strongly identified with the new school, new teacher, and new surroundings in his mind. and there's no competition for CN's niche; hunter likes dinosaurs and power rangers, and christian and the other little boys are presumably into other things.
so there are meta-reasons why i tolerate moderate Thomas worship. i want my kid to feel there's a way for him to express who he is through what he likes (through his toys, but not the only way, obviously) and to fit into a larger social landscape.
so why do i hate that seemingly innocuous little blue train? oh, let me count the reasons why.
Cost
too expensive. each freakin' train costs $17-20! i'm of the school of thought that toddler toys should cost between $5-10, because it'll only last for 20 minutes before the box gets played with.
there are 3 non-compatible lines of Thomas stuff: the legos, the aforementioned pricey trains for wooden track, and the weird, in-between line that's neither here nor there but exists just to trick you into buying a train and then when your kid gets attached to it, you have to sink a whole lot of money into the rest of the line (tracks, other trains, watering station, etc) WHICH IS COMPLETELY INCOMPATIBLE WITH THE HIGH-PRICED "CLASSIC" LINE. or, you could return the opened non-conforming train and risk having your child meltdown into a sobbing heap because they're now convinced THAT is their favorite train. evil, i tell you. what a SCAM.
to get into the top-line train set, it'll set you back a minimum of $250-300. we cheat and combine brio tracks with Thomas trains, or even the ill-fitting ikea tracks that give Thomas the wheezes on uphill climbs, but it's not the same and we all know it.
Archaic values
ok, Bob the Builder is talking on his cell phone and planting ecologically correct sunflower farms which can be harvested for the seeds, the oil, and the fibers and meanwhile my kid is absorbed in some pseudo-neo-edwardian fantasy of ruddy good england? where sour-faced little trains shirk work and trick/bully each other? methinks we'll pass on the U.K.-style hazing.
Thomas LIES.* this is unforgiveable. if my child hasn't figured out yet how to lie and disappoint people on his own, i'll be damned if he learns how to do it from a book.
who the heck is Sir Topham Hatt and why is my child learning about colonial paternalism and the overlords of the british class system?
Aesthetics
those fat dowels-sawed-in-twain-and-painted arms have got to go. the people in Thomas' world are lumpy and static. they don't even have fingers. or chins.
again, FACES on trains. c'mon, aren't you a little weirded out by this?
the lady trains are grotesque, with drag queen makeup and faces out of a wagnerian opera.
Socio-political bone-headedness
again, in Thomas' world, the lacanian law of the father seems to rule. Sir Topham Hatt dispenses justice and runs around chastising trains with his thick dowel arms (atop a fifty gallon drum, no less). so what kind of lesson is that imparting? rich old men get to tell everyone what to do? the ruling class know what is right and wrong, and are entitled to tell (and enforce it upon) others? the child psychology is so primitive as to be pre-Freudian. there's no sense of a child (or his surrogate, Thomas in this case) working it out for himself, or otherwise exploring an internal sense of boundary, justice, or emotional complexity.
the girly trains are underdeveloped as characters and don't seem to have much personality or initiative. again, so pre-feminist as to be laughably uncontemporary.
what's with the rigid class system (steamies vs. diesels, second class citizen cargo trains getting slammed around and thrown against fences all the time)?
*there's a REASON why this book is selling for $1.77 in the remainder bin at AllABoardToys.com: no one wants to read it to their kid. it's like saying, "here, have a big bite of this peanut butter and mercury sandwich, with maybe some lead paint flakes on the side." obviously lying happens in real life, but i don't see Thomas' lying dealt with in a very contemporary, age-appropriate way.